Hello Hans Helgesen Community!
Tuesday September 6 is our first day back to school.  We have students for half a day (8:30 – 11:38).  All students return to their teacher from last year.  New students to the school will be placed with classmates and Kindergarten students have their own schedules which have been mailed.
We have sent out shortened school supply lists this year and once your child has their teacher for the year they may have a few more supplies requested by that teacher.
The school is open Monday August 29 for questions or information.
We are all looking forward to seeing you soon!
Sincerely,
Mrs. Stoutley, Principal

Online registration for the school bus is open!  Register by June 24 if your child requires school bus transportation starting in September. Please visit the Transportation page for information including fees and guidelines.
Another busy month is coming to a close at HH.
Last week we celebrated Earth Week.  We had activities throughout the week culminating in a school-wide walk to Devonian Beach on Friday, April 22.  We collecting garbage and sorting recyclable and regular garbage found on our walk.  We are part of the CTV sponsored clean up that happens for Earth Day. Thank you to the sponsors who provide gloves and bags for students!  A big thank you to local scientists Andy MacKinnon and Kem Luther who came and talked to us about the Biodiversity day that happens next Saturday, April 30th.  A notice was sent home for families regarding that local event.
Another exciting event this month is the visit from the Vancouver Island Raptors Society.  They will be bringing their hawks to visit the Hans Helgesen Hawks on April 28 for the day!  You are welcome to attend!  Check with your child's teacher to see what time their session with the hawks is happening.
We have Groove Dance Club and Mini Mudders happening this month as well.  Information is in the office for these after school classes.
A local instructor of the "Home Alone" program is also generously offering a class to teach students safety in the home when they're alone.  Students must be 9 years old at the time of the class which is being held from 2:45 to 5:30 on April 27.  This course is discounted by almost half of what you would pay through a Parks and Rec Program.
More information regarding May events will follow soon.  Please don't hesitate to contact me if you have any questions.
Mrs. Stoutley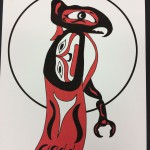 With the selection of our new logo, we are ready to begin exploring what it means to be a Hans Helgesen Hawk!  We will be working on updating our school's Code of Conduct to reflect the new acronym of "SOAR" this spring.  Our PAC is also sponsoring a visit from the Raptors Center near Duncan.  All our students will have a chance to see hawks in action!
We are very happy to share the winning logo design from our student Matteo S. in grade three.  Thank you to everyone who designed a logo and submitted an entry.  It was wonderful to see all the thoughtful designs and talent!
This Friday is our last school day before the Spring Break.  We return to work on Wednesday, March 30.
I hope you all have a wonderful, fun and family-filled break!
Sincerely,
Mrs. Debra Stoutley, Principal
Dear Hans Helgesen Families,
This is a reminder that our "Student Led Conferences combined with the Music and Art Show" is happening on Thursday, March 3rd!
We hope you have marked your calendar in order to visit the school to see your child's (or children's) Art work, classroom work and the Djembe Drumming Performances!
Starting at 4:00 pm, we have the school and classrooms open for you to see and purchase your child's Art, have them lead you through their classroom work and then at 6:00 pm we have our Djembe Drum Concert with our guest musician Matthew Hodgins.
Please remember that if you need more time with your child's teacher,  you can contact them for an individual appointment.  Also, as always, please contact me if you have any questions or concerns.
We hope that this evening will be a wonderful social event for our school!
Sincerely
Mrs. Stoutley
Principal
Registration for the 2016/2017 school year opens:
Monday, January 25 – Friday, January 29
beginning at 8 a.m.
There are two ways to register:
Online at registration.sd62.bc.ca. Please make sure to present proof of child's age and residence to your neighbourhood school within 14 days of registering.
At your neighbourhood school. Please present proof of child's age and residence to the school at the time of registration.
Please contact the office if you have any questions.  250-478-3431
Welcome back everyone!  This is an important month of learning.  This time of year, students are adjusting to the return from a long break and teachers are enjoying a long stretch of time with very few interruptions to their teaching.  Families can help their child's adjustment with the return to routines including regular times for meals and bedtimes in order to make the return in January more successful.
This month has two significant events.  First, Kindergarten registration happens at the end of January from the 25th to the 29th.  This is the beginning of the process that helps us determine how many classes of students we will have for next year, so we always look forward to seeing who will be joining us!  Please remind any family and friends that you know have a child who turns five years old by the end of this calendar year to plan to do this. The second event is Literacy Week.  In keeping with the long stretch of work time, we spend one week doing reflective and focused activities that highlight the learning we do all year in the area of literacy.  Stay tuned for more information on that!  I will be asking for some special 'Guest Readers' to come in and share a favourite story with our classes one day that week!
As always, if you have any questions, please don't hesitate to contact me at the office!
~Mrs. Stoutley, Principal
This last week of school before the winter break is busy!  We have:
Christmas Re-gift store on Wednesday morning.  Students have an opportunity to purchase one small gift for a parent for under $5.00.
Hamper collection  Wednesday afternoon.  Last chance to donate an item is Wednesday  morning.
Sing along in the gym Thursday afternoon.  Students are welcome to wear Christmas hats or 'antlers' and parents are welcome.  We will have some guest performers and
Walk to Devonian Beach Friday morning.  Some parent volunteers are making hot dogs for us before we head back to school.  A full lunch is still recommended since we use a lot of calories when we do these big walks!
First day back to school on January 4th, Monday.
On behalf of all the staff at Hans Helgesen, I wish you a wonderful winter break with family and friends.  Sincerely,  Debra Stoutley
P.S. The local Scout troops are chipping trees after the season this year again.  You can email treechip4scouts@gmail.com or call 250-589-7715 for more information.  Chipping begins on Dec. 27th.
Please read the important message below from Jim Cambridge, Superintendent of Schools,
In late September, the Ministry of Education agreed to provide for two extra non-instructional days to the 2015/2016 school year. The Sooke Teachers' Association determined that Monday, January 18, 2016 and Monday, April 4, 2016 would be converted from days of instruction to non-instructional days (NIDs). To decrease learning disruption, these days were chosen as they take place in different semesters.  Copies of the revised 2015-16 Calendar are attached.
These days will provide critical training to teachers and staff about the province's curriculum redesign. The new Kindergarten-Grade 9 official curriculum will begin September 2016 and the new Grade 10-12 curriculum is scheduled for the 2017/2018 school year. For more information about BC's new curriculum, please visit curriculum.gov.bc.ca.
Jim Cambridge
Superintendent of Schools
Hello Hans Helgesen Families,
We are busy finishing learning activities and incorporating seasonal fun as we rapidly approach our winter break.  This week we are focused on Friday since it is "hot chocolate" day.  We are asking students to bring a mug to school to help us continue to be "litter-less" in our lunch.
Also, our PAC is asking for donations of gently used items for the Christmas Store.  This is an opportunity for students to purchase gifts between $1 and $5 that are for parents.  Each student will be guaranteed one gift and if we have enough donations they may be able to purchase two or more.  If you have items that you could donate to the Christmas Store, please bring them to the office.
In the last week of school, we will be having our caroling sing along in the gym on Thursday afternoon.  Parents are always welcome to join us!  Also, on Friday the 18th we are planning a walk to Devonian Beach!  More news on that to follow!
-Mrs. Stoutley