Along with Kindergarten registration (which happens from January 23-January 27), the district has information regarding Academy programs available in our district.  Please see the attached link to learn more about district academies.
Dear Hans Helgesen Community,
It is time for registration of all new students!  Below is a link with information regarding kindergarten (including French Immersion and Nature Kindergarten) as well as any new students to our area.
As always, please contact me at the school if you have questions or concerns.
Debra Stoutley, Principal
2017-18-new-student-registration-notice-january-2017
Dear Parents/Guardians,
We are very excited to announce that SD62 is now offering School Cash Online to all parents to pay school fees and district fees. We want to save you time when paying for school fees and this is a great way to pay without the need for cash or cheques.
To sign up to use School Cash Online, please follow these steps:
Read the Instructions (parents who have already created an account during online bus registration can skip to "Step 6")
Fill out the Consent Form (https://sd62.schoolcashonline.com/)
You must fill out a separate consent form for each child
Already signed up for an account during online bus registration? 
Great! Please skip to "Step 6" of the Instructions linked above.
Why do you need to fill out a consent form?
The system is designed to extract some of your student's personal information contained in MyEdBC (Ministry school database), with School Cash Online.  This information will be shared through a secured FTP (file transfer protocol) site (similar to online banking) and will only be used for the purpose of student fees and online payments.
The information that will be extracted from MyEdBC is as follows and is contained on a Canadian site:
ALL STUDENTS:
Student School Name
Student School Number
Student Legal First Name
Student Legal Last Name
Student PEN Number
Student Classroom/Homeroom
Student Grade
Student Parent/Guardian #1 First Name
Student Parent/Guardian #1 Last Name
Student Date of Birth
MIDDLE/HIGH SCHOOL STUDENTS:
Student School Number
Course Codes
Course Name
Course Code Section
Course Semester
Semester Start Date
Semester End Date
Course School Year
Course Teacher ID Number
 Student Number
In order to have your child/ren included in the first extract upload we require your consent to be completed by Friday, November 4th at 4 p.m.
We hope to have the first information transfer complete by mid November. Once your child's information is transferred, you will be able to sign into your school cash online account, choose your child and attach him or her to your account to pay their fees.
After November 4:
You will still be able to submit your consent after November 4, 2016.  This will simply mean that your child's information will not be included in the first transfer but will be included in subsequent extracts.
We will send you more information closer to mid November regarding the second phase of the online program.
For inquiries about account setup and using the system, please visit the "School Fees" page of the District website or  email schoolcashschool@sd62.bc.ca
For general information about fees, please contact your child's school.
Thank you,
School District 62
Hello Hans Helgesen Community!
Tuesday September 6 is our first day back to school.  We have students for half a day (8:30 – 11:38).  All students return to their teacher from last year.  New students to the school will be placed with classmates and Kindergarten students have their own schedules which have been mailed.
We have sent out shortened school supply lists this year and once your child has their teacher for the year they may have a few more supplies requested by that teacher.
The school is open Monday August 29 for questions or information.
We are all looking forward to seeing you soon!
Sincerely,
Mrs. Stoutley, Principal

Online registration for the school bus is open!  Register by June 24 if your child requires school bus transportation starting in September. Please visit the Transportation page for information including fees and guidelines.
Another busy month is coming to a close at HH.
Last week we celebrated Earth Week.  We had activities throughout the week culminating in a school-wide walk to Devonian Beach on Friday, April 22.  We collecting garbage and sorting recyclable and regular garbage found on our walk.  We are part of the CTV sponsored clean up that happens for Earth Day. Thank you to the sponsors who provide gloves and bags for students!  A big thank you to local scientists Andy MacKinnon and Kem Luther who came and talked to us about the Biodiversity day that happens next Saturday, April 30th.  A notice was sent home for families regarding that local event.
Another exciting event this month is the visit from the Vancouver Island Raptors Society.  They will be bringing their hawks to visit the Hans Helgesen Hawks on April 28 for the day!  You are welcome to attend!  Check with your child's teacher to see what time their session with the hawks is happening.
We have Groove Dance Club and Mini Mudders happening this month as well.  Information is in the office for these after school classes.
A local instructor of the "Home Alone" program is also generously offering a class to teach students safety in the home when they're alone.  Students must be 9 years old at the time of the class which is being held from 2:45 to 5:30 on April 27.  This course is discounted by almost half of what you would pay through a Parks and Rec Program.
More information regarding May events will follow soon.  Please don't hesitate to contact me if you have any questions.
Mrs. Stoutley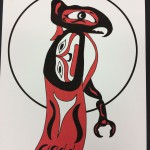 With the selection of our new logo, we are ready to begin exploring what it means to be a Hans Helgesen Hawk!  We will be working on updating our school's Code of Conduct to reflect the new acronym of "SOAR" this spring.  Our PAC is also sponsoring a visit from the Raptors Center near Duncan.  All our students will have a chance to see hawks in action!
We are very happy to share the winning logo design from our student Matteo S. in grade three.  Thank you to everyone who designed a logo and submitted an entry.  It was wonderful to see all the thoughtful designs and talent!
This Friday is our last school day before the Spring Break.  We return to work on Wednesday, March 30.
I hope you all have a wonderful, fun and family-filled break!
Sincerely,
Mrs. Debra Stoutley, Principal
Dear Hans Helgesen Families,
This is a reminder that our "Student Led Conferences combined with the Music and Art Show" is happening on Thursday, March 3rd!
We hope you have marked your calendar in order to visit the school to see your child's (or children's) Art work, classroom work and the Djembe Drumming Performances!
Starting at 4:00 pm, we have the school and classrooms open for you to see and purchase your child's Art, have them lead you through their classroom work and then at 6:00 pm we have our Djembe Drum Concert with our guest musician Matthew Hodgins.
Please remember that if you need more time with your child's teacher,  you can contact them for an individual appointment.  Also, as always, please contact me if you have any questions or concerns.
We hope that this evening will be a wonderful social event for our school!
Sincerely
Mrs. Stoutley
Principal
Registration for the 2016/2017 school year opens:
Monday, January 25 – Friday, January 29
beginning at 8 a.m.
There are two ways to register:
Online at registration.sd62.bc.ca. Please make sure to present proof of child's age and residence to your neighbourhood school within 14 days of registering.
At your neighbourhood school. Please present proof of child's age and residence to the school at the time of registration.
Please contact the office if you have any questions.  250-478-3431